Gforce, who I caught up with between scaling cliffs and riding camels. Gary has that cute little Canadian way of spelling things. He's also one of the nicest people I know! Gary lives with his naughty African Lovebird, Bart.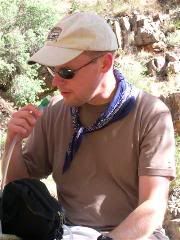 Name: Gary Hyslop
Age: 41
Location: Rothesay, N.B. Canada!

Where were you born? I was born waaaay back in '62 in Saint John, N.B. Wow, it seems like a lifetime ago now....

What was life like in New Brunswick in the '60's? Life in NB in the '60's was pretty quiet as I recall. I hate to say that I don't really remember a lot of what was going on other than in my own life - I mean I was only 7 when 1970 hit! I do remember that the road that I grew up on (I live about a 5 minute walk away from there right now!) was very quiet and there were even very few houses on it. Now, it is a main road with a fair amount of commercial development. It's kind of funny because I remember one of the first times I walked down to the store at the bottom of the road by myself, which is probably about a 5 minute walk for me today - I was probably about 5 yrs old and I thought I was a million miles away from home. Maybe that's how I got my taste for travel!!


What did you want to be when you grew up? I think way back when I was in elementary school, I wanted to be the standard doctor or fireman or whatever that a lot of kids think about. This was of course before computers were at all common. But when I first got an inkling the existence of computers (I was probably around 11 or 12) I knew that's what I was going to wind up doing. And... here I am! However, my not-so-secret dream is to be a forest ranger, park naturalist, or operate a wilderness guiding service.... I guess I'm not fully grown up yet ;)


Can you tell us about your job now, or it top secret? Oh, my job's not secret at all. I work for the Canada Revenue Agency (like the IRS - ack!) as a "Senior Technical Analyst", which is a fancy name for a jack-of-all-trades computer-wise. I basically do network implementation work, projects, and second tier technical support for the local systems that we have in our office. We also support several other tax sub-offices as well as all (about 17) the Customs Border Services sites in New Brunswick (we border the state of Maine). It's not a bad job - you sometimes have to look for the job satisfaction aspect - but the benefits are good, and I work with some really great people.


What were mealtimes like for you as a child? Mealtimes were pretty standard "sit at the table as a family" experiences, except my Dad used to work quite a bit of overtime so there was many a night it was just Mom and the kids. I always remember them as being good times, and we always would talk about our day, etc. especially when everyone was home at the same time - my oldest brother and sister were already teens my the time of my earlier memories, so sometimes they were out.

Did you ever like any of your school photos? I don't even like any of my current photos - I'm just not very photogenic!! I don't think I even have any of my school photos other than my University graduation ones - it's the only one that ever came out looking half decent. Airbrushing is our friend...

What was your first date like? I'm not sure - I will report on it when it occurs.... haha! Anyway, my dating history is not exactly a story that would fill volumes. I was very shy in school, and my first "real" date was probably to a friend's high school grad dance. However, it was at that time that my Mom was dying in the hospital with cancer, so I probably wasn't exactly the best company. She was a very nice girl though and we actually spent most of the time just talking and she was very supportive.

Are you still shy when it comes to meeting women?
Yes, kind of. But not nearly as bad as when I was younger. My self-esteem was never the greatest and I always wondered why anyone would possibly be interested. I'm somewhat more confident ow, though - I guess I just care less than I used to what people think.

You've been quite the socialite this summer! Do you mean the amount of company that I've had staying with me? Well, that's actually not that uncommon for the Summer, as I usually get by brother and sister-in-law from Nova Scotia visiting for at least a couple of days on their way through to vacationing in the US. (I usually go down to New Hampshire in the Summer with them and some of their friends.) Also, a friend of mine who is going through a separation and is currently looking for an apartment has stayed with me for a few days here and there, but he has spent a lot of the Summer travelling so it really hasn't been a lot. And, of course, I managed to get in a visit with Rappy and Mheh in Toronto, which was extremely cool! I don't know if I've been more of a socialite than usual, though. I always like to visit or have people visit me.

What is in your vegetable bin? Hmmmm, let me check..... Well, since I just got back from vacationing for two weeks, the bin is currently empty, but the usual occupants are something like some green leaf lettuce, broccoli, maybe some baby carrots, the occasional tomato, stuff like that. Depending on how fast I can use this stuff up, however, it may be in one of several various stages of heading for the compost.....

Do you cook much, or do you just eat trail mix?? It's funny that you should ask that, since because I have little food in the house right now after being away for so long, I wound up topping up my meal last night with trail mix. I normally never eat that at home, though. I usually cook stuff for dinner, but it's often something just simple like chicken, with steamed broccoli and carrots or something like that. I like pasta, too, and sometimes have stuff like homemade spaghetti. It's Summer, so I've been doing a fair bit of barbequeing. Sometimes I will do something fancier and make something like one of your excellent recipes! I try not to eat out very much with fast food - it's expensive and usually not very healthy - but I will allow myself one (or maybe two, depending on how busy I am) meals that way a week.

What color is your car? My Jeep's colour is called Patriot Blue. I love the colour and I love the vehicle!! My last three vehicles (a '95 Cherokee, a '98 Grand Cherokee, and a '00 Neon) have ALL been dark green, so I guess it was time for a change.

Are you having a good hair day? Haha! Grace, that's just mean! ANY hair would be a good hair day. Actually, I do have a some left, but I keep it trimmed quite short so there really very little maintenance to it.

What is your favorite cologne? Unfortunately, I have pretty bad allergies to most colognes, especially ones that have cat musk as an ingredient (I'm allergic to cats), but there are a few that I can tolerate. I very seldom use any though, because it's just not worth buying it and then not being able to use it. I also work in a scent-free workplace, so I couldn't even wear any there regardless. I used to like "Obsession" for Men quite a bit, but that just shows you how stuck in the '80's I am....

Whas 80's music did you listen to? Hmmm... Pretty well all the popular stuff of the day - I think the '80's was the peak decade for pop music and I think it's all been downhill since then. I did kind of favour some of the more "alternative" or new wave type stuff such as the B-52's and the Cure, though. My musical tastes are very broad, however. Even now, I have some compilation CDs where there there are things like a Bach organ fugue and "Love Shack" on the same disc. Throw in something like Eric Clapton, a Frank Sinatra track and some Cold Chisel (an Australian band) and you've got some good music! Of course as some of you know, I am in a local choir (baritone) and I get to sing a lot of classical stuff - we've done things like Handel's Messiah, Beethoven's 9th Symphony ("Ode to Joy") and Fauré's Requiem, among a lot of other stuff. It's great fun.

What is your middle name? William, named after my uncle I think. I actually like it better than my first name, it has a certain nobility I think.

What type of books do you like to read? Although I occasionally read novels of various types (mysteries are probably my favourite), I tend to read mostly educational or non-fiction stuff. I always try to learn new stuff and reading is the best way. Of course, I really like books on topics related to my hobbies, like hiking, biking, pretty well anything outdoors related. I also kind of like historical stuff, particularly about certain regions where I like to visit, like the White Mountains in New Hamshire and, of course, the Grand Canyon.

This is where I usually ask about blogging. Or, your lack thereof. Um, er... yes, blogging.... I have a blog??!!! Oh yeah, I do... I could use a bunch of excuses, but laziness is the main factor. That, and I've been away for ages. However, I promise once vacation is over and get settled back into a routine, I will get back into it. Really. I will. Honest.

What is you favorite type of cookie? I can say that I have never met a cookie I didn't like, but my absolute favourite would have to be home-made chocolate chip, right out of the oven. But heck, peanut butter, molasses, ginger, sugar, shortbread, oatmeal (w or w/o raisins is fine), you name a cookie - I will eat it!

Who would you next like to see spotlighted? I don't believe the inimitable GreenTuna has been featured yet! Tuna, bring on the funny!!!!

Thanks Gary! I'm sure you'll have some new fans after this interview!