Overg turned the tables on me for this week's spotlight!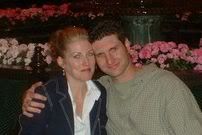 The above picture of Grace and Overg was taken

on the 4th of July by
Green Tuna
,

who's interview you can see here next week!

Name:
Grace George
Age:
37
Location:
Indianapolis, IN
Name the members of your household (including pets) from tallest to shortest. Myself, Alexandra (daughter), Jacob (son), Sally (cat), Bee (cat), Alex III, (fish)

Where were you born?
About 5 miles from here
*Builds shrine in Indianapolis*

What did you want to be when you grew up?
I wanted to own my own greenhouse.
Rumor has it you know a thing or two about plants and flowers, and may even have a couple in your yard. . . Yes, I have a couple...hundred flowers in my front yard alone. Before I started talking to you every waking minute, I used to spend a lot of time out there.

What were mealtimes like for you as a child?
We sat down for every meal, we prayed, we ate a big ole meat and potatoes dinner then dessert. We had to be asked to be excused when we were done. Then we had to do the dishes.
Did you ever do any of the cooking? Yes, a lot of it once I was able to reach the stove.
Did you ever like any of your school photos?
Some were good, some were bad. Does the word "re-take" ring a bell?

I hear there may be some reunion photos coming our way soon. When can we look forward to seeing you put your classmates to shame? I did get a few pics back, but they're all blurry pictures of drunk people. Plus I'm having issues with the computer that my scanner is connected to. So, perhaps never.
What was your first date like?
I can't even remember my last date
Ouch.

Did you ever really find out what sex is like?
No, wait, that was your follow up question to me.


What is in your vegetable bin?
[goes to look]
salad-in-a-bag, something I can't identify, and a bag of cedar shavings

Now, we originally started this interview almost two months ago. Please tell me all of those things aren't still there. [goes to look again] Now there are two things I can't identify and a bag of cedar shavings.


What color is your car? I don't have a car, but my van is gold

Are you having a good hair day?
My hair is still wet, so it's too soon to tell
although given that it's 100% humid, chances are slim.

What is your favorite cologne?
Whatever Overg is wearing.
*runs out to buy some of that*
right now, I believe that would be "fresh cut grass"

[whiffs]
And your favorite movie? "Arthur". Would you like to see it with me sometime?
Only if I provide the vcr.
What is your middle name? Eileen.
Nothing that starts with a "G"? I wish! Then my initials would be "GGGG", baby!

What type of books do you like to read?
History, biographies, and Women Who Love Too Much.

What is your favorite type of cookie?
Chocolate chip. I mean, really~ is there any other kind?

You've gone the whole time and only once mentioned me. There might be someone, somewhere, that doesn't know you find me dreamy. And with a great ass!
They better not find you, or I'll have to get all screechy!

Are you the jealous type? Only when it comes to handsome, rouge drifters.
Awwww, thanks. And thank you for all of your readers, who I know have been dying to put the spotlight on you ever since you started this series. OOXX