Mrs. Gryn, who is pictured below.
When asked why she chose this picture, she explained that it was because "a.) it was taken in the Louvre and b.) a hard man is always good to find, ya know?"
I can't argue with that!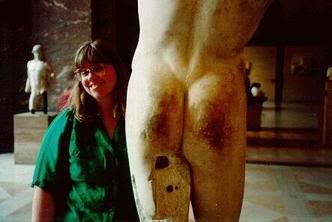 Name:
Donna Gryn

Age:
42.

Location:
Newhall, California. It's a little town just north of Los Angeles that is being swallowed up by the megalopolis. Thankfully there are enough wild(ish) areas that allow us to hear the coyotes at night, plus the occasional golden eagle shows up to scare the beejesus out of the rabbits and quail.
Where were you born?
Santa Monica, California.
What did you want to be when you grew up?
My first ambitions were to be either a nurse or a crossing guard. The power to make people STOP! when I held up a sign was quite appealing.
Did you end up being either of those?
No, I actually do medical billing from home.
What were mealtimes like for you as a child?
My father always worked late. My mother would occasionally cook and make us wait until he got home to eat, usually pretty late. Mostly, she would take to her bed and we'd be on our own. Consequently, my brother and I both turned out to be pretty good cooks.
Do you eat out much? What is your favorite restaurant?
We probably go out a couple of nights a week. One of our favorite places is
Claim Jumper
, which is mostly in California. Mmmm!

Did you ever like any of your school photos?
Considering I'm a tall, willowy blonde, but my photos show me as a short, dumpy brunette, I'm going to have to say no.
What was your first date like?
He took me to see "Raiders of the Lost Ark" and we, like, went to the mall. Then we totally made out. Whoa, flashback to Valley Girl days.
How did you meet Mr.Gryn?
Via the Internet. He was a grad student at Ohio State and I was living my life in California. We met through an email list for an Irish singer named
Chris de Burgh
, of whom we had both been fans for many years. We emailed and talked on the phone for a couple of years, then finally he flew out here so we could meet in person and voila! I snagged me a husband! OKay, it was about three years after we met in person, but still.
God Bless the Internet!

Any kids?
Not as of yet.

What is in your vegetable bin?
Asparagus, green and red bell peppers, half a red onion, tomatoes, celery, baby carrots, romaine lettuce and a lemon that is about to foment rebellion. I need to throw that thing out.


Considering you said that two weeks ago, I'd have to agree;)
What color is your car?
I have an '87 Honda Civic sedan named "The Red Baron". He's really more of a burgundy color.
Are you having a good hair day?
Couldn't tell you. God bless scrunchies.
What is your favorite perfume?
Jardin du Bagatelle by Guerlain.
Are there any board or card games that you enjoy?
I love playing games! Can you come over? Card games like Spite 'n' Malice, Fan-tan, Bridge. Right now in the closet I have Sequence, Trivial Pursuit (regular and Star Wars variety), Yahtzee, Disney Monopoly, Skip-bo, a Dragonriders of Pern boardgame, backgammon.

I want to come over right now! Spite and Malice sounds like it's right up my alley!

What is your middle name?
Rachel.
What type of books do you like to read?
How much bandwidth do we have? Let's see: fiction tends to be mostly fantasy/science fiction. Favorite authors include Harry Turtledove, Tolkien, Glen Cook, Anne McCaffrey. Recently, some friends started an online book group, so I've been reading some fiction that I wouldn't normally pick up, lots of bestsellers geared toward women. Right now we're reading "My Sister's Keeper" by Jodi Picoult. I made them read P.J. O'Rourke's "All The Trouble In the World", which they all, but for one, hated. I figure making one P.J. convert was good enough. Having just (finally) finished my B.A. in history, I read a lot of history books. Right now I'm doing some research about the Wild Geese of Ireland in anticipation of writing a novel or two based on the diaspora.
What was your favorite book as a child?
Easy. "Black Beauty".
What is your favorite type of cookie?
Chocolate chip is the easy response, but at Christmas time nothing will do but Swedish spice cookies. No idea if the recipe is actually Swedish, but they are gooooood.
Pfeffernusse cookies? Do you have a recipe to share?
Not pfeffernusse.


Here goes:
1/2 cup butter
1/2 cup dark corn syrup
1 egg
1 and 3/4 cups flour
1/2 cup sugar
1/4 cup cornstarch
1 tsp cinnamon
1 tsp ginger
1/2 tsp baking soda
1/4 tsp allspice
1/4 tsp ground cloves
Set oven to 350 degrees
In small saucepan over medium heat, melt butter with corn syrup until mixture boils. Remove from heat.
In bowl, beat egg until thick and lemon colored. Pour hot syrup mixture in thin, steady stream into egg, beating constantly until blended. Reduce speed on mixer to low, add the rest of the ingredients (flour through ground cloves), beating until well-mixed. Cover bowl with plastic wrap and refrigerate until dough is firm enough to handle, about 4 hours.
Grease large cookie sheets. Shape dough into 1" balls, place on sheets about 2 and a half inches apart. Bake 8-10 minutes or until lightly browned. Cool on wire racks. These cookies get even better a couple of days after being made.


I want us to make these when I come over for Spite and Malice!
What's the deal with your single brother-in-law? Does he live in California too?
Well, I keep getting the Darren Stevens "Don't interfere!" finger wagging treatment from my husband, but to hell with that! The b-i-l is 37, was in the Navy for years and years, moved home with the parents, just north of Philadelphia, a few years ago after getting out and works at some sort of electronics company nearby. Great guy, sly and dry sense of humor and likes to argue for the sake of arguing. I'd call him a contrarian, in fact. His world mostly seems to be computers, games and the occasional RPG convention. He's actually a lot of fun to hang around with and an all-around good guy. A woman would need to know something about the Star Trek universe to get a foothold, I think. Oh! and you'd get the best mother-in-law in the world, hands down.

Thanks, Donna, for letting us in on the real Mrs.Gryn!